Epitome of quality and precision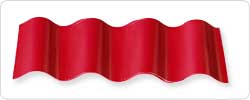 SUN-ARCH INDUSTRIES is an ISO 9000-2008 certified company that manifests its credibility in the market. Our range encompasses UPVC Roofing Sheets and Roofing Ridge Tiles. Delivering best quality under most reasonable price is our perpetual goal; our products are supported by well-established quality assurance department. Currently operational from Morbai, Gujarat, we are dealing throughout India with our exporting interests in countries like China, Oman, Kenya and UAE. We are committed to bring new innovations and to take our products to absolutely zero defect status.
The chief objective of the company is to deliver utmost satisfaction to the clients. Therefore, we strive hard to understand the clients' requirements and go an extra mile to gratify them. Timely delivery and affordable rates add to the contentment of the clients. Furthermore, our strong business ethics has helped us in acquiring a distinct identity in the national as well as international market.